Why are colour-coded rods so special?
17th Oct 2019
COLOUR-CODED rods are a special kind of rod we created after numerous conversations with chimney sweeps about the practicalities of choosing the right rod for the right job.
The colour-coding works perfectly when you need to access the correct rod quickly and don't want the hassle of rummaging around in the back of your van. You know the scenario: the clock is ticking, the chimney needs to be swept and other customers are waiting.
That's the beauty of colour-coded rods. It's a simple concept which really does work (according to the positive feedback we receive). When you have your rods all bundled together in a bag, if the rods are colour-coded you will be able to easily identify the right size of rod needed for the flue. Our colour-coded rods also help if you're working as a team and/or have an apprentice. For example, instead of asking the apprentice to find the 12mm flexible half rods, you can just ask:
"Please grab me the orange half rods". It's really that simple!
Rodstation's colour-coded rods are unique and make a chimney sweep's work efficient and effective. You will be able to sweep the chimney using the right tools in no time at all - and then off, onto the next customer!
You may have heard about our Colourcoded Flueboss Powersweeping Kit . This kit is just right for when you need to sweep chimneys that are insulated or for flexible flue liners and masonry chimneys.
We use high grade aluminium to create the rods, which are hard colour anodized to make sure the colouring is long-lasting and will withstand the pressures of chimney sweeping. The colours also help when you want to quickly choose the right rod without wasting time.
Chimney sweeps tells us that the 'push fit' connection to put the rods together is a great idea. It means you can get the sweeping gear in order in no time at all. All you have to do is push the rod into position with a little twist. Once you've heard the 'click' - you're ready to sweep!
The Flueboss sweeping kit has easy-to-follow rules allowing you to properly sweep a chimney without distraction. All you have to do is attach a Rodstation adaptor to your cordless drill (always make sure your drill has been fully charged before working). Put the drill on a low gear and then you can slot the colour-coded rods into place, using the 'push fit' connections to quickly assemble the rods. The FlueBoss has also been created with a domed head, making it easier to push up the flue.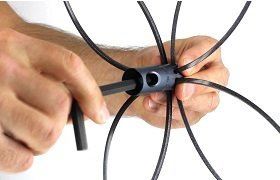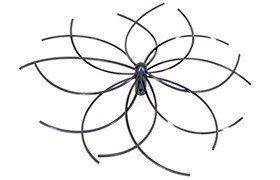 You'll find that the FlueBoss is technically more efficient than traditional sweeping rods. The power generated, scouring grip of the rodhead and ease of rod assembly (as well as identification via the colours) is unbeatable. We've thought of every detail in creating FlueBoss (yes, you can tell we're happy with it…), even making it easy for you to replace the strands, by loosening the grubscrew.
If there's one repetitive word you'll have noticed in this review of our colour-coded rods, it's 'easy'. The equipment has been devised to make your job easier but also more precise in sweeping flue surface areascompared to traditional rods.
If you'd like to find out more, contact our friendly sales team on 01446 500695 or email us on sales@rodstation.co.uk
---
You may also be interested in reading...
---
Back