RodStation aims to supply the best service and innovative high quality British made products at affordable prices. Our Managing Director Adam Pedersen has designed many products that are sold to stove shops and chimney related businesses all over the UK. In addition to being the 3rd generation involved in chimneys he has a First Class Honours Degree in Product design and engineering. The range of RodStation sweeping rods and brushes are made by us in South Wales and the FlueBoss power sweeping fixings are made locally by carefully selected precision engineers.

Worldwide Shipping
RodStation frequently send products to countries all over the world with competitive delivery prices. If you have items you are interested in please visit our international distributor page.  If we do not currently have a distributor in your country please email your details and enquiry to sales@rodstation.co.uk and we will get back to you shortly.
Members of the National Association of Chimney Sweeps
Rodstation are delighted to be Associate Members of the National Association of Chimney Sweeps (NACS) which formed in 1982 as a professional Trade Association, promoting high standards for the sweeping, inspection and maintenance of chimneys.
Trade Partners of the Guild Of Master Chimney Sweeps
Rodstation are trade partners with the GOMCS supporting the association through events and the Rodstation range of equipment is activly used in chimney sweep training.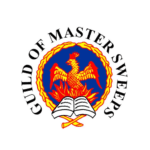 Some of our Trade Customers
Rodstation have worked in conjunction with many blue chip companies supplying our equipment as a solution to varied industrial applications.