5 . 03 . 2020
Best Guild of MCS show for sales!
SALES of Rodstation's highly rated equipment were the best ever at this year's (2020) Guild of Master Chimneys Sweeps Trade Exhibition.
The popular event in the UK's chimney sweeping trade calendar took place at the Chesford Grange Hotel in Kenilworth from February 28 to 29. Members of the Guild came from all over the country to meet together at the exhibition alongside sweeps from other associations and independent chimney professionals.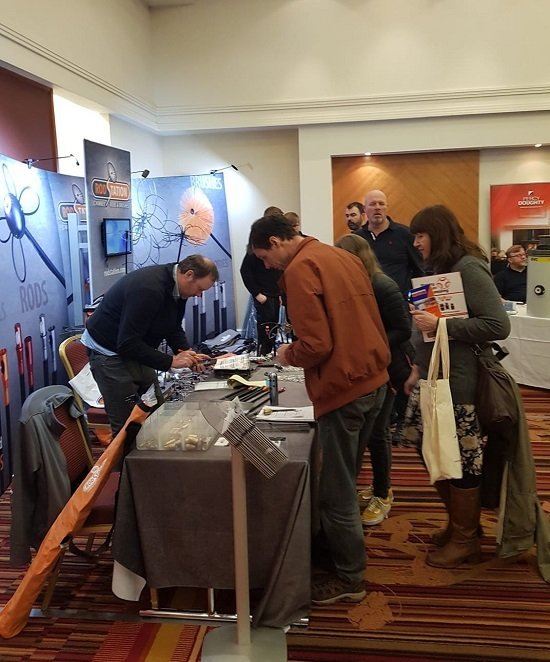 Adam Pedersen, director of Rodstation, said: "It was a great show, which was very well organised. The footfall seemed much higher than usual perhaps because of the cancellation of the Hearth & Home and NACS shows. It was good to catch up with many existing customers and gain a huge amount of interest from those new to the trade".
The Guild exhibition involved attendees browsing trade stands and plenty of socialising at the hotel bar. There were seminars on trade topics during the Saturday, before the AGM and evening entertainment. Subjects in the seminars covered Exodraft chimney fan maintenance, Burnright for Business and Ecodesign Stoves.
Adam said that it was 'our best Guild show for sales' and he added: "Customers particularly liked the fact we use co-polymer as our chosen rod material, which holds its shape better compared to nylon or polypropylene. Our Flueboss liner kit and newly released Flueboss mini kits were also a real hit.
We always enjoy attending the Guild exhibition and this year was no exception. We'll be back at the Guild show next year!"
Rodstation is heading off to Finland next week. Matt Jones, international sales manager, will be meeting our Scandanavian distributors at the 'Annual Statutory Spring Conference Days of Central Association of Chimney Sweeps' in Seinäjoki, Finland.