5 . 09 . 2019
Chimney sweep is most happy after buying Rodstation colour-coded rods
HOW do you really know if Rodstation's products are definitely value for money? Simple, you ask a chimney sweep who uses our equipment. 
Yorkshireman Thomas Wiggins is the Director of Commercial Chimney Sweeping Ltd with a particular focus on helping commercial clients, although he sweeps flues for domestic customers too. He founded the Company in 2016 and quickly established a brand built on professionalism, notching up training along the way with the Guild of Master Chimney Sweeps, HETAS and later becoming an NVQ qualified Sweep.
There are a lot of manufacturers offering chimney sweeping equipment out there and after seeing the benefits of Rodstation's comprehensive range of professional, reliable and affordable products, Thomas decided to invest in his equipment. He hasn't looked back since and considers his variety of Rodstation kit to be a MUST when it comes to tackling chimneys. We caught up with Thomas to ask him what he really thought about our products.
How did you become a chimney sweep?
I started my chimney sweeping adventures in 2016 after a change of career. My wife had already been a chimney sweep for 9 years at that point and gave me the encouragement to get involved in the sweeping world.
When did you first discover Rodstation?
When I attended the NACS trade show in 2016 I bought one of the Rodstation CCTV cameras. It served me well and I've since upgraded it to the HD Superbright Camera with the wire cable management reel – a super product.
What was it about Rodstation equipment that attracted you?
Rodstation provide good quality products, have a varied range, and the scope to manufacture unique parts. Plus quick turn around times and great customer service.
Simply, why do you use Rodstation gear?
I adopted Rodstation colour-coded rods after trying out the 12mm and 16mm rods. I was very taken with the product, especially the push button connection compared to what I was using.
Do you have a favourite weapon in the Rodstation arsenal for tackling soot/chimneys, etc?
It definitely depends on what job you are tackling, for liners I like the 10mm rods and soft power brush head. Then for some of my larger Biomass jobs with awkward horizontals I love my custom scrapers – the time and effort they save is incredible, a great tool to have in the van.
What makes Rodstation sweeping equipment different to products from other companies, in your opinion?
The colour coding has to be one of the biggest differences from other companies' products. It's very useful and allows for rod selection at a glance.
Would you recommend Rodstation to other chimney sweeps? Why?
I think it's very important for any sweep looking at buying equipment to get hands-on with it, and not feel pressured into buying any specific brand. To that end, go to the trade shows and see it for yourself – making sure to see first-hand the quality of the products Rodstation offer! – I'm very happy with mine!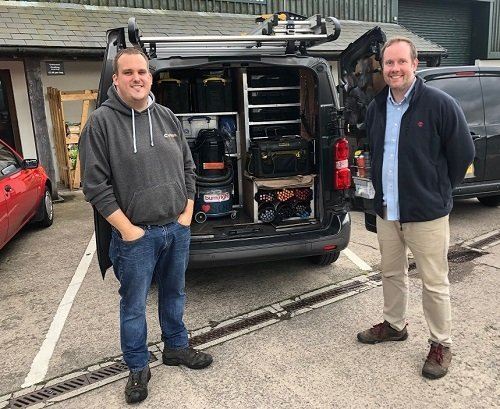 Thomas Wiggins (left) with director Adam Pedersen at Rodstation's HQ
Are you 'ooming' and 'aaring' about whether to use Rodstation equipment? Why not call our team today and discuss what you need? We can arrange for you to test out the equipment and see for yourself why our chimney sweeping products are increasingly becoming the go-to choice for chimney sweeps in the UK, Europe and the USA.