28 . 10 . 2019
Inspection camera systems supporting your work
Rodstation offer high tech cameras to help you locate and deal with any challenge inside a chimney flue
CAMERA systems have revolutionised the work of chimney sweeps and provide a reliable method for checking the inside of chimney flues and flue liners in meticulous detail.
Rodstation now offers three market leading camera systems that are highly valued by sweeps looking for sophisticated technology; supporting the objective to keep consumers free from risks of carbon monoxide poisoning and uncontrolled chimney fires.
"We work hard to ensure that our customers receive top-end pioneering camera systems to support their work," says Adam Pedersen, director of Rodstation. "Each of our three current offerings give a different emphasis; so that all potential problems in a flue can be easily identified, thanks to the opted camera, and then remedial works carried out."
If you have any questions about our chimney systems, contact us today . Remember that all our cameras carry a 12-month warranty for your peace of mind. Also – a FREE 16GB Micro SD card is included with all camera kits!
Meanwhile, here is a brief low-down on the top rated equipment we offer:-
The WCS system is perfect if you need to effortlessly scrutinise the inside of a chimney and don't want the hassle of cables. This camera set-up was created for sweeps who like to keep things simple. It takes just a few minutes to fit the camera together and get it up the flue in no time at all. A high capacity Li-battery allows for two hours continuous working time, so you can concentrate without distractions. The colour monitor will give you a clear view, to see if there are any issues with the flue. Click here to download our Wireless Inspection Camera Leaflet (PDF).  Through November we have a special offer of a FREE 15 metre cabled camera with every wireless camera system sold click here for more information.
This is a replacement for the former 6 LED Camera. The advantage of the 8 LED is that its unique self-centralising housing features an auto focus camera and it gives far better lighting (8 extra bright LED lights), alongside zooming in-and-out functions, to allow for a more detailed examination of chimney flues. The 8 LED is ideal if you want to capture flawless colour images. It's best suited for flexible chimney liners and smaller diameter masonry chimneys. Click here to
download our User Manual (PDF). Or watch the video here !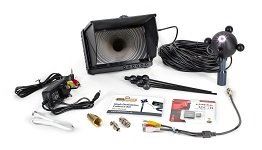 Superbright Camera (product code:-PCHD02, PCHD03with reel)
Ideal if you need total visual acuity inside the larger and darkest of chimney flues.  The Superbright is geared for larger flues and available with or without a cable management reel. The unique self-centralising housing features a reliable auto focus camera and an impressive 16 extra bright LED lights to capture the highest quality colour images. Click here to download our Superbright HD Inspection Camera Leaflet (PDF). Please call our helpful sales team right now on 01446 500695 and discuss which option is best for you. Rodstation provides camera systems for chimney sweeps both in the UK and internationally. We know every detail about our cameras and which set-up would best suit your work.