5 . 02 . 2016
NACS Manual Sweeping Kits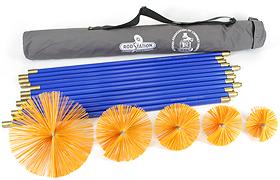 RodStation has launched a new range of Manual Sweeping Rod Kits for flexible liners or masonry flues in conjunction with The National Association of Chimney Sweeps (NACS).The kits are supplied in a heavy duty canvass bag for easy handling and feature the RodStation and NACS logos. The flexible liner kit contains 12 x flexible 1 metre rods and an assortment of soft bristle brushes and the current trade price is £156.63 plus Vat.  The Masonry sweeping kit consists of 15 x rigid 90cm Bailey rods and an assortment of medium bristle brushes and the current trade price is just £141.63 plus Vat.
RodStation is proud to be British company and manufactures rods and brushes to very high standards at their base in South Wales. They supply the trade in the UK and Europe. They also supply a comprehensive range of other brushes, core ball and other sweeping accessories
"We are pleased to be working with NACS by providing a British made product to Chimney Sweeps' says RodStation Director Adam Pedersen, who adds. "Customer feedback for our products has been great, particularly in terms of quality, quick delivery and very competitive trade prices".
The rod kits are available on the RodStation and NACS websites. Monthly sweeping courses are also held by NACS at their National Chimney Training Centre in Staffordshire, and can be contacted at training@nacs.org.uk
RodStation also produce the Flue Boss® Power sweeping kits which are proving to be a great success and in high demand and the same applies to their easy to use and affordable Camera kit.  More details on www.rodstation.co.uk or 01446 500695 alternatively contact sales@rodstation.co.uk
Visit the RodStation stand at the upcoming NACS exhibition in Stratford Upon Avon on the 15 and 16th April