30 . 09 . 2015
New and innovative chimney camera.
RodStation has launched an affordable and simple to use chimney inspection camera that has many innovative features aimed to help sweeps and installers.
"Quick set up, simple operation and low cost" were the key factors that inspired owner Adam Pedersen to design the camera kit. He adds that "For many sweeps and installers the cost of a camera kit was out of reach, so the challenge was to create an affordable and compact alternative to more expensive systems".
The unique British made ball head is designed to protect the wireless colour camera and is simply fitted onto standard sweeping rods. There are conveniently positioned threaded holes in the head so the camera can be set at different viewing angles. A choice of arms are supplied to help guide the head in the flue.
The wireless camera has 6 bright LED lights allowing a long 5 metre range of visibility.  The wireless model has been tested in 15 metre high stone chimneys and the videos were crystal clear!
The full HD colour 5 inch display of the compact and wireless monitor has 10 hours recording time and also features a photo function. There is a micro SD card slot for recording videos and photos. Press the button and the RodStation logo flashes on the screen and you are ready to go.
The camera kit is supplied in a neat heavy duty padded case with free delivery.  The kit includes the camera ball, monitor and a range of connections and fittings.
"Demand for the camera has been amazing" says Adam Pedersen who adds "A happy trade customer bought cameras for all his installers and said it is a great value for money kit, that's compact and easy to use."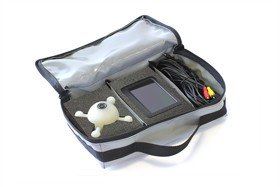 RodStation produces and sells a wide range of sweeping rods, brushes, sweeps sheets and the Flue Boss power sweeping kit. To set up a trade account with trade prices just visit their website at www.rodstation.co.uk.