19 . 07 . 2017
New Chimney Camera and Soot Prevention Products
A new Superbright chimney camera and unique chimney fire suppressant have been recently launched by RodStation that has a well established reputation innovative high quality and very competitively priced products.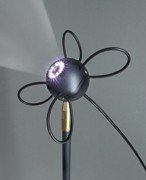 Thanks to the strong demand for their rods, brushes and power sweeping kits they have increased production capacity in South Wales. They are well known for supplying the trade and are backed by over 40 years of hands on experience in the stove and chimney industry.
The new Superbright camera is designed to be quick to use and give brighter viewing inside larger chimney or ducts.  The competitive price, compact design and handy storage case make this a good choice for chimney stoves and installers wanting to check a chimney before lining or sweeping.
The camera has a 120 degree angle of view and is protected in an enhanced version of the unique RodStation ball housing that can be used with standard rods and has 4 screw in position to give a good choice of viewing angles. The housing is supplied with 2 sets of flexible centralising arms.
The retail price of the camera and kit is currently £700 plus VAT and comes in a heavy duty storage case that includes a 7 inch HD full colour monitor with 16GB micro SD card for recording.
Extinguishing chimney fires is an important issue and the FireEx chimney fire suppressant is a new exclusive product from RodStation. It has been developed to quickly stop a chimney fire in a few minutes by simply dropping the sealed bag into the stove. It requires no pre ignition which saves time when every minute counts.
Supplied in a small sealed pack, the FireEx has no shelf life so is an ideal home safety product that a stove user can have nearby in case of a chimney fire. It is a simple and low cost safety precaution just like having a fire blanket in case of fire in a kitchen.
Theretail price of the FireEx from Rodstation is only £31.63 plus VAT should make the product a low cost and affordable precaution for stove users.
Proven by decades of successful use in stopping chimney fires in the USA the FireEx products have been fully tested and performance evaluated by the EPA Accredited Lokee Testing Laboratory that also tests and certifies wood burning stoves.
Rodstation were recently appointed the exclusive European distributors for these products which are manufactured by Meeco, who have been specialising in safety and maintenance products for the solid fuel industry since 1937.
"Our aim is to provide the industry with cost effective new products, so we are delighted to launch or Superbright camera and also the MEECO products" says Adam Pedersen MD, who adds "This gives the trade another opportunity to provide their customers with new products. The low cost and convenience of the FireEx chimney fire suppressant has great potential for the stove and chimney sweeping industry".
The full range of products can be seen on their online trade portal at www.rodstation.co.uk".  For more information call 01446 500695 or email sales@rodstation.co.uk