12 . 04 . 2015
Rodstation at Hearth & Home Exhibition 2015
RodStation at Hearth & Home Exhibition in Harrogate 7th-9th June 2015 (stand C56)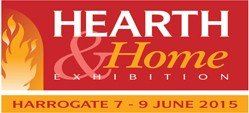 A new range of chimney sweeping rods with brushes will be displayed at the show by Rodstation, including their "FlueBoss" rotating brushes head and their showroom display unit for the trade.
Special discounted deals will be available for orders placed at the show and a free display unit will be provided on first orders for the bundle offer of flexible rods.
Ease and quick twinlock fitting between rods and high quality are key features customers appreciate from RodStation which is backed by over 40 years "hands on" experience in the stove and chimney industry.
The "Superflexy" rods for sweeping flexible flue liners are strong and flexible with British made solid brass screw fittings. The 2 metre long rods are proving to be very successful addition to the standard 1 and 1 ½ metre rods.
The "FlueBoss" head of the rotating power sweeping kit is also British made and features a domed head to ease passage of the brush up flues and is gold nickel plated for increased durability.
Good value for money and high quality is the mission of RodStation, so visit stand C56 to find out more or contact Adam on 07714334583.