30 . 08 . 2019
Rodstation impresses attendees at ESCHFOE event in Sweden
EXCITEMENT at the unique range of power sweeping equipment offered by Rodstation was clearly evident by international attendees enjoying the recent European Federation of Chimney Sweeps (ESCHFOE) annual technical meeting.
Rodstation's always-busy director Adam Pedersen was delighted to meet up with the firm's Scandinavian distributors Petter and Stefan, who have offices in Norway, to talk shop at the big event. ESCHFOE's meet-up was held at the Scandic Triangeln Centre, Malmo in Sweden from August 21 to 25.
Adam said: "There was lots of interest in our power sweeping equipment, which holds patents and copyrights in Europe and we are in discussions with countries for distribution agreements.
It was also great to meet the delegation from the US, whom we also saw recently at the NCSG Convention in Virginia.
Events like these are so important for us to get the message out there that chimney sweeps don't have to feel stuck in a rut using aged technology. Rodstation's power sweeping equipment gives a pathway for sweeps to utilise gear which simply makes the job easier for them, and achieves far better results."
Rodstation was able to demonstrate its pioneering equipment via a rig involving three 90-degree bends, a damper and a reducer, taking the pipe from six inches to four inches.
The UK was represented officially at the event by Sascha Meding, the vice chairman of the Guild of Master Chimney Sweeps.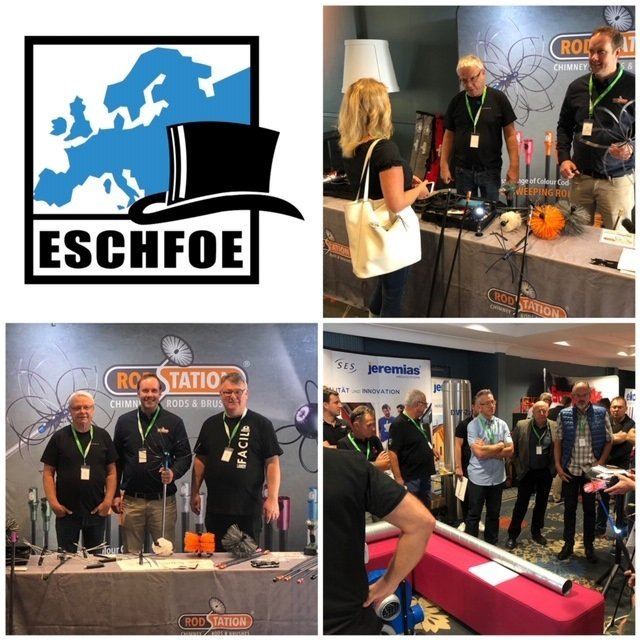 Adam has little time to put his bags down after the ESCHFOE gathering. The growing interest in Rodstation's products from abroad means that he will be heading off to Santa Maria Majorie this Friday along with Rodstation international sales Manager, Matthew Jones.
The dynamic duo are heading to the International Meeting of Chimney Sweeps in Val Vigezzo, from August 30 to September 2. This colourful event, now in its 38th year, involves a ceremony at a dedicated Chimney Sweep Monument in Malesco and a colourful parade of 1,000 sweeps from across the world.
"Chimney sweeping is a highly respectable profession enjoyed by tradesmen from different countries," added Adam. "We are looking forward to touching base with old friends and meeting new customers who would benefit from the superb range of rotary power sweeping equipment we offer which, according to the feedback we receive, helps chimney sweeps to be more effective and efficient in their work."