22 . 03 . 2019
ISH Germany 2019
Rodstation exhibited their range of power sweeping equipment, chimney brushes and cameras at the ISH Show in Frankfurt Germany.  ISH is the world's leading trade fair focusing on the responsible management of water and energy in buildings. It sets trends for modern bathroom design, sustainable heating and air-conditioning technology as well as intelligent home systems.
Over 2,500 exhibitors with over 190,000 visitors attended the show from 161 countries.  ISH 2019 was held on the 15th -19th March 2019 in Frankfurt and promotes various skilled trades and the Chimney sweeping industry around Europe and the rest of the world.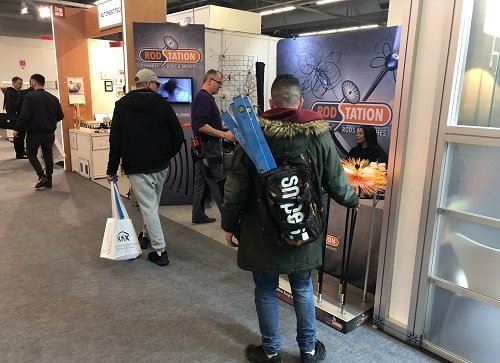 Rodstation was showcased the Flueboss Colourcoded Power Sweeping Kits which is designed and manufactured in the UK in its South Wales facilities. The Colourcoded Power sweeping equipment with a quick and easy Push-fit single button connection holding UK and EU patents and copyrights.
Rodstation Managing Director Adam Pedersen said 'We received phenomenal interest in our Colourcoded power sweeping equipment from the German chimney sweeps and interest from a wide range of European countries looking to distribute our equipment and we look forward to further increasing our distributor network, a big thanks to Richard and our translator Enrica who assisted in dealing with enquiries'.
Rodstation is located in South Wales UK all of their high quality innovative/ bespoke products are made on site with their own manufacturing facilities. Rodstation will be next Exhibiting at the National Association of Chimney Sweeps (NACS) show as the main sponsor held on the 12th & 13th April in Stratford Upon Avon.  Rodstation's wide range of Power Sweeping Chimney Rods, chimney brush range, and wide selection of chimney inspection cameras will be on display and demonstrated.