3 . 10 . 2019
Perfect brushes for small spaces in chimneys, fluepipes and range cookers
WE ALL know that chimney flues are built in a wide range of shapes and sizes – and it's a challenge finding the correctly sized brush to sweep every nook and cranny.
Think about the factors that affect which brushes you choose for sweeping. You have to consider the flue size, material used in the construction of the flue and any flue liner, what type of fuel is used, etc. No doubt your expertise means you make a quick and accurate decision when it comes to picking out the right brush. You'll know that the stiffness and size of the brush needs to correspond accurately with the flue. That's why every chimney sweep needs a variety of Rodstation rods and brushes in his or her sweeping arsenal.
Flues with a smaller width pose a particular challenge, even for the most experienced sweep.  The flue can be wider by the base point narrows to a uniform size up to the very top of the chimney. Sweeps can hold different opinions about how to sweep tighter spaces. Standard sweeping will often do the job but specialised powersweeping equipment may also be needed. You may want to consider using a 10mm pink colour coded rod for flues with multiple along with the Flueboss small which will pass through flues from 4" and open up to 12" suitable for most scenarios.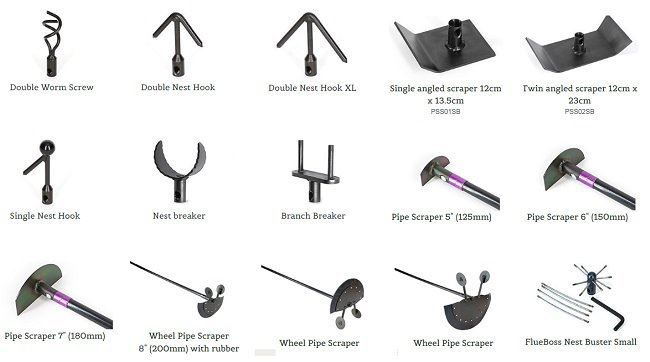 Some flues will have bends to negotiate showing signs of a partial blockage or build-up of soot, which can be tricky to clear.  Using the Flueboss range of nest removal tools which can be very effective to remove blockage within the flue or alternatively a scraper can attached to the rods which can dislodge excessive build ups of soot.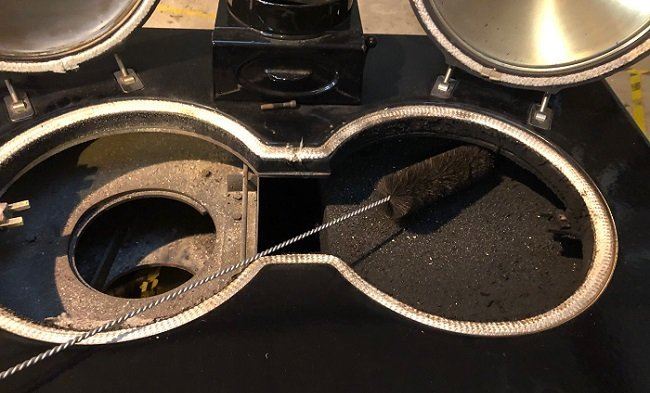 Have a look at Rodstation's range of traditional chimney brushes, we offer a fantastic range of brushes and rods to deal with any challenge you face and if we don't stock it we can make a bespoke brush to suit your specific requirements. If you're sweeping out a biomass boiler (fan unit assembly) with hard-to-reach areas, our nine-piece bottle brush could be the answer!  The Rodstation range of Flue Brushes are ideal for clearing hard to reach spots especially within solid fuel range cookers. (Flue 1/2 shown above in an Esse Ironheart)
If you are dealing with square chimneys, then the Flueboss 2 part inner and outer power brushes can be a great choice for gentle clearing soot from crevices and ledges in the flues of larger inglenook chimneys.
For lined and twin-wall chimneys, our specialist traditional chimney kit featuring a protected ball top brush and a super flexible nylon lead rods – perfect! The flexibility in these rods gives the chimney sweep the ability to sweep around 45 degree angles and 90 degree tees in the flue. What's more, the solid brass couplings and ball top brush means there's no danger of damaging the chimney, because of the smoothness of the edges.
Customers depend on chimney sweeps for their expertise and also their equipment. They trust you to have the right gear to sweep the chimney so that it is clean as a whistle and ready for use. Rodstation understands that need and that's why we are here to support you.  Contact us on 01446 500695 or email sales@rodstation.co.uk.